Business Valuation
As a professional business broker, I do not charge for business valuation. I start with a confidential analysis of your operations, finances, market potential and trends. I then use this information to generate a business profile that I can put in context with market conditions.
How Much is a Business Worth?
What your business is worth to the IRS is a different question than what is its potential sales value. There is an old joke in real estate as follows: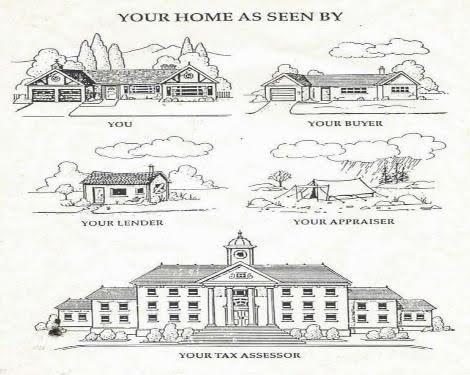 It is not so different with your business, when it's time to put it on the market.  Unless we have prepared it correctly.
I work with my sellers closely, and confidentially, to produce the accurate value of the business in as fair a way as possible. It helps no-one to price the enterprise too high – the business will simply sit there and everyone will get discouraged. Too low a price is a problem too,because potential buyers (and their brokers) tend to be sophisticated nowadays and know full well what a business is worth. When it has been priced too low, it makes those buyers suspicious of hidden problems that will likely turn into expensive future "surprises".  
Checklist
Documents Needed for Business Valuation
We need to gather the following docs: I can help you.
Three years of business tax returns and/or CPA generated statements.

Current interim P&L and Balance Sheet.

Questionnaire – completed from the point of view of the business prior to the sale/refinance.

Breakdown of each owner's duties, and compensation for all periods above.

Purchase Agreement / Deal Structure / Letter of Intent, including all supplements and amendments.

Building lease or ownership information (fair market rent, # of sq ft, lease expiration).

Business spreads/cash flow analysis including all cash flow adjustments, add-backs or non-recurring items for all periods above.

If Available: Past business plans, business valuations and/or business reviews (if applicable).

If available: Marketing materials, photos, or material you deem beneficial to understanding your business.
My Most Often Used Business Valuation Process
Compile the relevant business documents, as listed above
Provide "fill in the blank" template for seller to fill in for the business profile, 
Schedule a management interview and visit to the business
Visit the property, review the business' operations and conduct relevant interviews, where possible.  It is not always possible to take an interview and keep the reason behind it confidential. This is an important boundary to establish when we first begin the preparatory process.
Review and synthesize all of the information collected to date
Research the industry within which the business operates and compile relevant data
Study the economic conditions as of the valuation date, and their likely effect on the business to be sold
Analyze the company's financial data
Assess pertinent value drivers and potential risk factors
Review and analyze management's forecasts, projections and projections to ascertain a conservative earnings potential.
Resolve quetions that inevitably arise from this line of thought
Conside the rights and restrictions as they pertain to a minority interest.
NEXT
We look at the various business valuation methods available and see which one will work for our situation, giving us the most meaningful indications of value.  Once we have the numbers from the following 3 options of business valuation, I take a look at how to combine them into my final report.  There will be other premiums or discounts that may apply, and if the company has a minority interest, then that too will have to factor in to the valuation conclusion.
Transworld has refined its reporting standards for all of our business brokers. In the Tampa area, our business brokers all use the same format of report.  I will then prepare a comprehensive report that will present all relevant facts and explain all analyses, procedures and decisions, with a less detailed set of calculation reports and a professional summary.
Market Approach
Define a guideline company criteria
Research and collect public and/or private guideline company transaction data
Analyze guideline company similarities and differences; refine transactions used
Statistically analyze and calculate appropriate market multiples: price/earnings, price/revenue, price/book value, etc.
Select appropriate multiples and calculate value indications
Income Approach
Select appropriate methods: DCF, excess earnings, one or more capitalization methods
Apply these methods using appropriate benefit streams and costs of capital
Cost Approach
Adjusted Book Value or Liquidation Value
Can require separate real estate or equipment appraisals
Business Valuation Uses
 A Tampa business broker is typically called in to value a business when it is being prepared for sale.  And for that, there is no cost. However, there are other times when a business may need to be valued, and those include:
Estate, gift and other tax filings
Dispute resolution, expert witness and litigation support
Mergers and acquisitions transactions
Shareholder buy-sell transactions
Employee Stock Ownership Plans
Exit planning
Business acquisition financing
It is important to know the intended use of the valuation, as it may impact the way the business is forecast and/or recast in terms of potential, for example with a full time vs. Part-time owner.
In some of these cases, I will refer out to a professional appraiser who specializes in the requisite business valuation that you, the seller, are looking for.
When Should I get My Business Valued?
Whenever you have an important decision to make involving value.  Using an incorrect value can lead to a failed sale, buy-out, ESOP, acquisition, dispute resolution, or tax filing.   Why invite problems, when better information is available?
What is the difference between a business valuation and a business appraisal?
Nothing. Valuation professionals use these terms interchangeably.  Be sure to understand the scope of analysis and level of report being proposed, regardless of what the expert calls the service provided.
Can I count on a Business Broker to be objective?
You can with this guy.  It helps me not at all to list a property incorrectly, with too high a number or too low.  My reputation is on the line, and my ability to nurture trust and respect among the Tampa and St Petersburg busienss communities is on the line, with every transaction I undertake.  If you are considering listing your business for sale, and you want a fair and accurate value, you will want to call a seasoned, well-respected Tampa Business Broker to represent you in the process.  I work diligently, and have the awards, to prove that I am that experienced professional.
What types of businesses do you appraise?
I have expertise in valuing priavtely held companies, as follows:
Stand alone businesses, subsidiaries, divisions, profit centers and reporting units
C Corporations, S Corporations, sole proprietorships, general and limited partnerships and LLCs
Entire companies and fractional interests
Operating businesses and holding companies
My broad base of experience and research capabilities allow me to value almost any type of business. I have built a foundational experience in the manufacturing, distribution, service, professional practice, retail, food and beverage, construction and transportation sectors.
Do you value intangible assets?
Yes. Common intangibles are customer contacts and vendor relationships, license agreements, franchises, covenants-not-to-compete, copyrights, designs, goodwill, technology, software, trade names, intellectual property, trademarks, patents, copyrights, trade secrets and proprietary methods or technology. Intangibles assets are non-physical assets (versus physical assets) that grant rights and privileges and provide economic benefits to the owner.
If I give my son or daughter stock in my company, do I need a business appraisal?
Usually. If the IRS audits a gift, the burden of supporting the value of that gift is on the taxpayer. A qualified business appraisal demonstrates to the IRS that shares have been properly valued. However, you should loop in your CPA for definitive advice.